When we decided to go to Turkey my main concern was food. I am vegetarian and was worried that I may not find food that suits my Indian palate. Every time we travel abroad I lose weight mainly because I really don't care much for the cold food served in different countries.
I had resigned myself to basic continental breakfast served in hotels realizing that not much is available for those who don't eat eggs. I had planned to satisfy my appetite with plenty of fruit and bread and cheese. My daughter had surfed the net and assured me that Turkish food will be great and sent me a link from buzz feed on '27 must eat Turkish foods'!!!
We arrived late evening in Istanbul and the next morning set out to the nearby Istiklal Caddesi for breakfast. In a restaurant 'MADO''', nine of us sat down for breakfast. I was surprised at the vegetarian options. I had a wonderful meal – a sandwich made of cheese and vegetables made with 'pide' – a long flat bread , fruit, French fries and lovely Turkish tea! All this was rounded off with some Baklava – a most delicious sweet akin to the Indian Balushahi!! Our holiday had started off very well!!!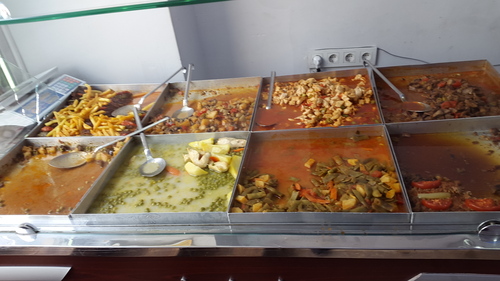 The lunches and dinners were also sumptuous. I found that we had many options – Meze, starters with a variety of small bite sized eats, the main course of bulgur pilaf (a pulao made with broken wheat, much like our dalia) prepared with a sauce of tomatoes, and a dish made with chick peas – channa masala of sorts!! Of course, we began with a delicious lentil soup – a watered down version of dal. We could also choose white peas instead of chick peas! All this was from a yemekleri – a place for home cooked authentic Turkish food, found in most areas of Istanbul!!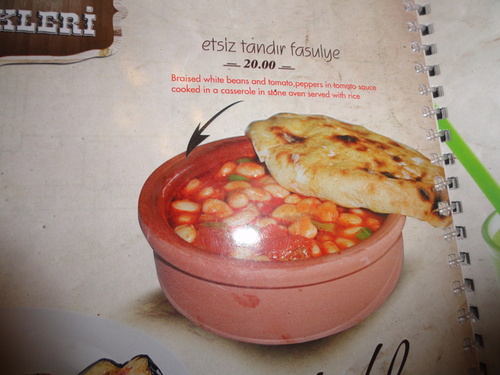 For dinner, we went to another ýemekleri. After the lip-smacking lentil soup, we ordered 'Gozleme' – a flat pan cake stuffed with potato, spinach or cheese. These were very similar to our stuffed parathas, but were bigger and much thinner. There were many stalls selling gozlemes even in remote spots in Cappadocia, a province we visited!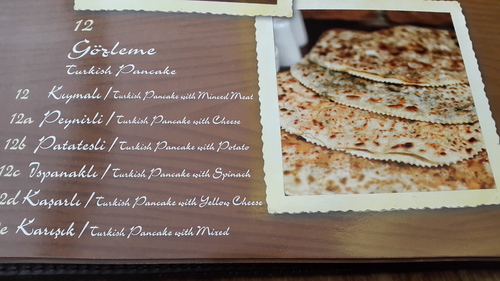 There were two common items in all our meals. One was 'natural yogurt'. This was really delicious dahi -even better and creamier than what we get in India. I was told that yoghurt was first made in Anatolia – the highlands of Turkey. And of course the famous Baklava! Baklavas are small puff pastries stuffed with pista, or walnut and soaked in sugar syrup! The drink I enjoyed was Ayran – buttermilk sold in tetra packs!
The Turks drink tea almost all the time. 'Cay' (chai) is a favorite served in quaint small glasses, and taken without milk.
There are many ice cream and dessert joints in Turkey and they sell a variety of desserts. Another popular one was 'Kunefe', which I didn't enjoy much as it was fried and soaked in sugar syrup. My husband called it Athirasam (a south Indian sweet). And of course, the famous 'Turkish delight', which seemed very ordinary to me after the gastronomical marvels that I had had!!!
I can keep on writing about Turkish vegetarian food. Needless to say, I came back from Turkey satisfied and well fed. We didn't have to search for any Indian restaurant as all of us enjoyed Anatolian food. Turkey is one country I would love to visit again!!